Mayerly Sanchez, 16 Colombia

Interests: Children's Peach Movement, basketball, volleyball.
Idol: Brad Pitt
Dream: Peace. To be able to afford to study at university to become a journalist.
Message: A little group which speaks about peace can be killed, but no one can kill ten million Colombians who speak about peace.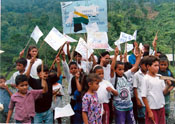 2.7 million children in Colombia voted for children's rights. Most of them thought that the right to live, the right to peace and the right to love and the family most important for Colombia's children.The message is clear: Colombia's children want peace and an end to the fighting and killing in the country.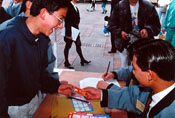 Children register to vote.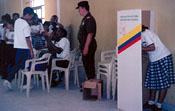 Voting is secret.





Mayerly in the frontline for the children
When Mayerly Sanchez was 12 her best friend was killed.
-Things must not continue like this, I thought, says Mayerly.
Today Mayerly is 16 and one of those who have been part of The Children's Peace Movement from the beginning.

- If we are only a small group who talk about peace we can be killed. But no one can kill ten million Colombians who want peace, she says.

Mayerly's home region was once uninhabited land. But eight years ago thousands of refugees came to the capital Bogota when there was fighting all over the country. They had no place to live and built simple houses in the fields.

Today the area is still poor, but Mayerly's home has electricity and running water and most of the roads have been paved. It is dangerous to walk alone after dark on the streets where Mayerly lives. Young people have knives and guns and many have been killed in gang fights. If Mayerly stays late at a friend's house she almost always spends the night there and goes home early the next morning, so that she will not be robbed and can feel safe.

Murdered friend
When Mayerly was seven she and her best friend, Milton, joined a children's group to help poor refugee families. But when Milton was 15 he joined a youth gang in the quarter. He received several stab wounds in a fight and died of his injuries.
- It is terrible when someone you love is killed, remembers Mayerly. Milton was like a brother who protected me and helped me with my lessons. And so suddenly, because life is so unfair, he is dead and gone. It is unfair for all of those who remain. Suddenly you receive no more help, suddenly the person you loved so much is no longer there. There is a big emptiness.
- It can't go on like this, I thought. We must do something to stop the violence.

Around the same time, in 1996, Mayerly was invited to a meeting with 27 other children, from ten organizations and from all the country's regions. They considered how one could improve children's lives in Colombia. Mayerly and her friends sat together a long time and listened to the adults. But finally they asked to be left alone.

- We wanted to find our own solutions. And someone came up with the idea of creating a movement over the entire country for children who support peace and are opposed to violence. One of the suggestions was that children ought to be able to vote, exactly like adults. And why not vote on the children's rights which adults had decided on.